I ordered an LRS 18" windshield less than a week ago and it showed up in the mail yesterday. It was late in the day but I was able to get it on the bike and get a quick ride.
Fitment was perfect and the quality seems excellent. I saw no flaws or blemishes of any kind and everything lined up well. The instructions have you mount it without removing the plastic and then take it for a ride. If everything is ok then you can remove the plastic. I'm assuming they want you to do that in case you have to return it for some reason. I almost blew off the instructions but decided to go along with them.
We all know the LRS windshield is 2" taller but I couldn't find any info about how wide it is. The answer is 3/4" total. So about 3/8" on each side. Personally, I'm happy about that. 3/4" is nothing. I was concerned it would be a couple of inches or more wider and I didn't want something that was much wider than the OEM windshield. Good job LRS.
I only had time for a very quick ride but I was able to get up to 75mph for a few seconds. The highly technical and precise intstrument I used to determine how well the windshield worked was my sunglasses. With the old windshield they would move around a bit at highway speeds. After intense scientific study and observation for about 15 seconds I can say they seemed to move around less with the LRS windshield installed. Obviously I'm being facetious but my very brief seat of the pants perception is the LRS windshield works as advertised. There is less buffeting but a 5 mile ride doesn't prove much. However, I can say with certainty that it's definitely at least as good as the OEM windshield and, IMO, it definitely looks better. I'm keeping it.
Before I post the obligatory before/after pics I also want to mention that this was my first ride after installing the Bren tune a couple of weeks ago. The weather hasn't been conducive for a ride until late yesterday afternoon. The arrival of the new windshield was a great coincidence and opportunity to try both the tune and the windshield. My focus was more on the windshield but I did notice some definite differences between the stock tune and the Bren tune. My experience seems to be the same as everybody else's. Smoother idle, pulls harder and the exhaust note is MUCH improved. I would never have thought tuning a motor could change the exhaust sound that much. I like it!
I'll give a more thorough review of the windshield and the tune after I get a chance to get in a longer ride but my initial impression is I'm very pleased with both of them. Here are a few pics. The first pic is the OEM windshield. The rest are the LRS windshield.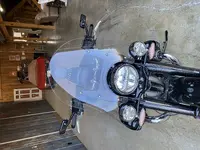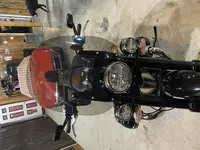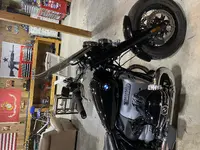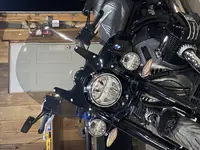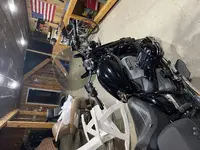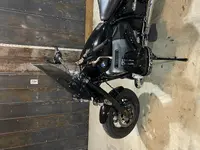 Last edited: